Are you looking to spice up your Notion dashboard with free widgets for Notion?
Notion widgets are interactive third-party elements inside Notion that work and behave like native Notion blocks. Using Notion widgets, you can personalize and make your Notion dashboard aesthetically pleasing. Adding widgets to a Notion page is adding life to it.
You can add simple custom widgets such as clock, timer, weather card, or advanced widgets such as charts, water tracker, habit tracker, and much more.
In this article, I have compiled a list of 13+ best Notion widgets that I think most Notion users will find useful. Most of the widgets I mention in this list are completely free to use.
Let's dive in!
How To Add Third-Party Widgets to Notion?
Notion makes it very easy to add any widget to a page. No matter what type of third-party widget you want to embed, it will follow the same steps.
Copy the link of the widget you want to embed.
On your Notion page, add the Embed block, paste the link, and hit Enter key.
Resize your widget to the perfect shape by dragging its edges.
Isn't it super simple to add widgets in Notion?
Now that we know how to add widgets to a page in Notion. let's look at some of the best Notion widgets available in the market.
13 Best Notion Widgets To Bring Life Into Notion [Mostly Free]
Most of the Notion widgets in this are free. Some will require you to create an account to get started while some can be used right away.
Use the below table of content to skip to the widget you are interested in.
1. Weather Notion Widget
Do you like to check the weather forecast before you start your day? It makes sense to include a weather widget in your Notion dashboard.
WidgetBox's Weather Notion widget is available in three variations. You can display the single-day weather in square and circle shapes or have it display the forecast for the next five days in a rectangle.
You can specify the city for which you want the weather to be displayed, and WidgetBox will retrieve the data for it. It allows you to customize the colors of the widgets to match your Notion dashboard design.
An ideal place to embed the weather widget would be on the homepage of your dashboard.
2. Clock Notion Widget
Time is money, and productivity is all about accomplishing more in less time. Having a clock right inside the Notion dashboard makes it easier to keep track of time.
You can use the same WidgetBox to add a clock widget, and t lets you select between analog and digital clocks. Everything about the clock is fully customizable, including the text and border colors.
You can also live test your watch for both the light and dark mode of Notion.
3. Charts Notion Widgets
Notion has tables that can be filled with data and work in the same way that spreadsheets do. A chart tool is required to present the data in reports or dashboards.
Notion Charts is a chart widget tool that allows you to create various types of charts directly within Notion using data from the table.
You can also use Notion.vip, which pulls data from Google Sheets and displays it as a chart inside Notion. It is more powerful than Notion Chart, but it requires the use of an external tool for data.
4. Crypto Notion Widget
Crypto is a hot topic these days and it's no wonder that people want to keep track of it. Crypto Notion widget by cryptowidgets.co makes this easy by providing widgets for popular crypto exchanges like Binance, Coinbase, Uniswap, and many more.
The best part? You can add them to your dashboard in just 30 seconds. All you have to do is enter the crypto coin you want to track, select a comparison currency, choose an exchange, select theming option and click the Get Your Widget Link button. The link will be copied to your clipboard, which you can then paste into Notion with the Embed block.
5. Button Notion Widget
Button is one of the most useful element on a web page. Notion doesn't have it in the list of core blocks. A button block is useful to accept payments through PayPal, or Stripe or to embed a link to any page on the web.
Butn is a powerful yet simple Notion button widget creator that comes with a number of customization options. You get options for font, color, padding, alignment, border, shadow, and much more. You can even set the button to open the link in the new tab.
6. Comments Notion Widget
Notion does come with support for comments but those are internal comments and people in the workspace have the permission to post.
Comments for Notion is a widget from Apption that enables everyone to post anonymous comments on a Notion page. It opens up the discussion for everyone.
You can also use the Disqus comment widget to let users submit comments through it.
7. Contact Form Notion Widget
The fact that Notion is an online tool and that you can share its link with anyone on the internet makes it a powerful one. It opens up a lot of possibilities for the app, such as embedding a contact form and allowing people to contact you through it
This way you don't have to expose your email address and can save all submissions inside the Notion. Chillipepper is a super flexible Notion form widget creator that can be customized to suit your needs. You get multiple form fields such as email, text, number, select, multi-select, phone, paragraph and much more.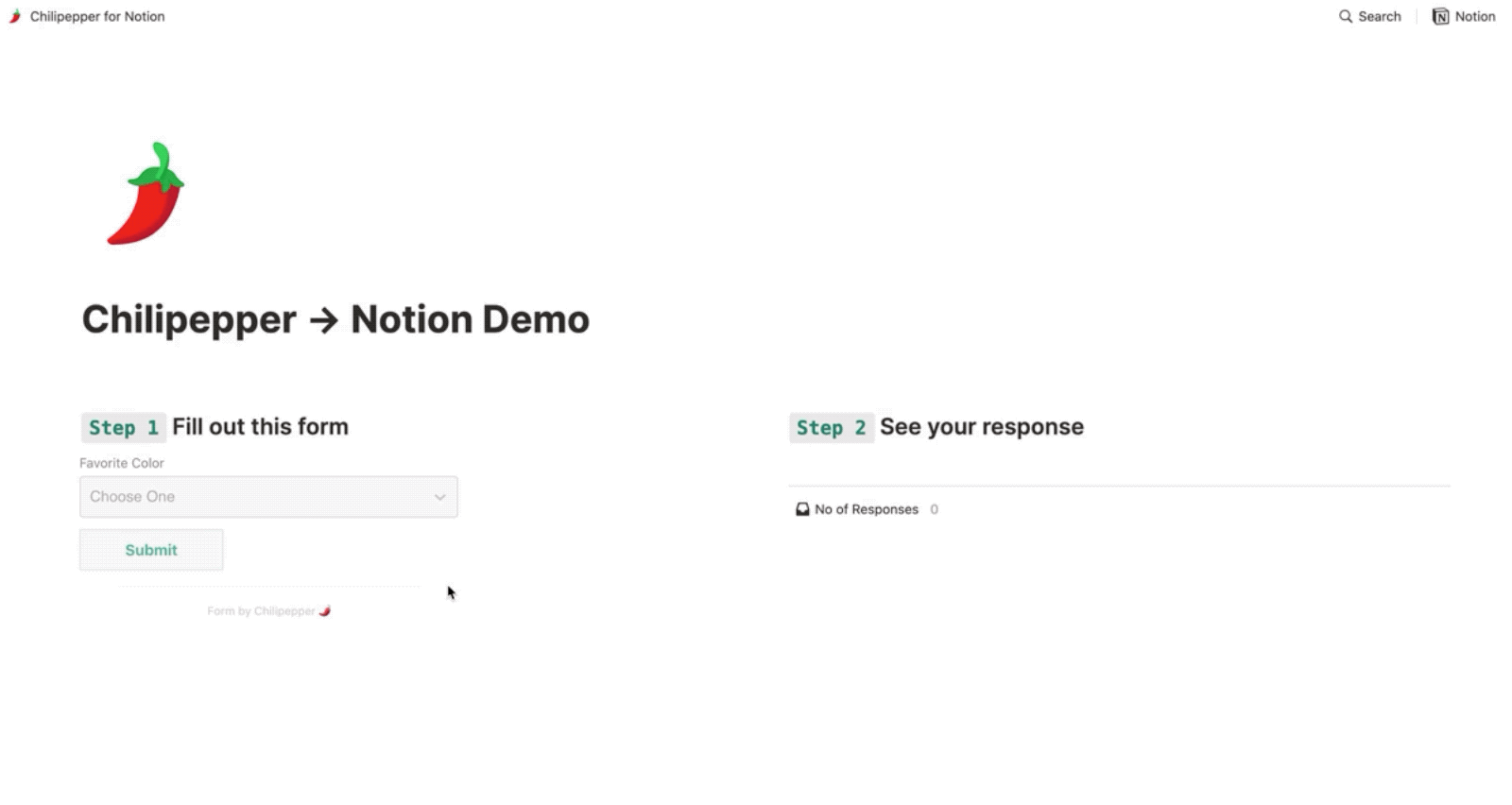 It also has all the necessary settings one would expect from a form maker app.
8. Habit Tracker Notion Widget
Many people use Notion as a productivity tool and to work on their build good habits. The Habit Tracker by Blocs lets you track the habits and present them as streaks. It gamifies the whole habit tracker and thus motivating you to stay on track.
You also get a daily water intake tracker that makes it super fun & interactive way to keep yourself hydrated.
9. Countdown Timer Widget
If you have a special event such as a friend's birthday or your anniversary, you can build anticipation for it by setting up a countdown to that special date.
You can get a Notion countdown widget that is customizable to your liking from sites like Indify, Inkle, and Notion Widgets.
Indify and Notion Widgets allow you to add a title to your countdown clock to help you understand what the countdown is about. The Notion Widget countdown block is the most customizable of the three, allowing you to change the colors and choose which metrics to display between days, hours, minutes, and seconds.
10. Calendar Notion Widget
A great-to-have along with the Notion clock widget is a calendar widget. You can have a simple calendar or a widget that syncs your Google Calendar to it.
Using the same WidgetBox, you can embed a simple Notion calendar widget. Color and appearance customization options are available, just like with other WidgetBox widgets.
To have a Google Calendar widget, you can either use Apption or Indify to connect to your Google account and have it display all events from it inside Notion.
11. Life Tracker Widget
Life Tracker is a fun Notion widget that gives you the estimated number of years, months, and days before your death.
Though no one can predict their death, you can input your birthday and expected life span and the widget will show you a progress bar of your life.
12. Quote Notion Widget
Because Notion is a productivity tool, a good quote on the dashboard can provide you with the right motivation and set the tone for the day.
Quote is another Notion widget by WidgetBox that displays a new quote every day inside the Notion dashboard. You can select from three different text styles and can change the color of the background, icon, text, and border.
13. Music Notion Widgets
If your productivity depends on the music, these widgets have got you covered. No matter if you use Spotify or Apple Music, you can embed either into your Notion dashboard and listen to some soothing music while you work.
You can embed any album, playlist, artist, or even podcast by following the instructions in the above links. The widgets are interactive and work as a normal player.
That's all! These are the best Notion widgets, which I believe the majority of Notion users will find useful. I'll be adding more widgets to this list as time goes on. You can bookmark the page or sign up for push notifications to be notified when the content is updated.
Wrapping Up: Best Notion Widgets
Notion offers a number of integrations with third-party apps to add data from it. The integration is limited and covers the most popular apps.
The recent release of Notion API has made it possible for various developers to make their app work inside Notion by embedding a link.
This article discusses the top Notion widgets. If you're looking for templates, you can visit our Notion Template Library, which contains templates created by members of the Notion community.